Four Camera Turbo CCTV Kit with 5MP ColorVu Cameras with 1TB HDD Bundle
SKU
4Turbo-ColorVu5MP-1TB

These BRAND NEW, state-of-the-art CCTV cameras can see 

C

o

l

o

u

r

 

a

t 

N

i

g

h

t

!
This Brilliant Kit Includes:
>4x  DS-2CE72KF3T 5MP 5MP ColorVu Cameras
>4x Balun kits
>100 metres Ethernet cable
>4x Male/Female DC plugs 
>1x iDS-7204HUHI-K1 1TB Ai Hybrid Recorder
>1x 4 WayPower Supply
>Free Delivery
>Free Tech Support
>3 Year Warranty
The Hikvision  DS-2CE72KF3T  is a 5MP, Full Time Colour, Turret Dome Camera from the ColorVu range. Using the latest technology it can see in colour down to 0.0003 lux!
We are now supplying 100 metres of CAT5 cable instead with Balun adapters with our Turbo kits, not with the older 20m readymade cables
This is the way most professionals install the HIKVision Kits and it's very handy to cut the cables to the lengths you need.
These cameras uses the latest, never-seen-before technology, and are new on the market for late 2021!
The iDS-7204HUHI-K1 is a 4 Channel CCTV Recorder, with a large 1TB Hard Drive.
This is the very high specification iDS-7204HUHI recorder, that can take cameras up to 8MP in super High-Resolution, more than twice as sharp as most TVI recorders. This is the newer Ai AcuSense DVR that can detect Humans and Vehicles with 85%-90% accuracy.
This kit now comes with the newer DS-2CE72KF3T which sees even better in the dark than the older ColorVu versions.
iDS-7204HUHI-K1 Ai DVR Bundled with 1TB Surveillance Hard Drive
These fantastic ColorVu cameras can see colour in total darkness up to 20-25 metres and much futher with any extra lighting such as downlighters or street lights.
 Hikvision ColorVu technology provides 24/7 vivid colorful images with F1.0 advanced lenses, high performance sensors and friendly lighting. F1.0 super-aperture collects more light to produce brighter images. Advanced sensor technology can vastly improve the utilization of available light. In zero-light scenarios, built-in, warm supplemental lighting works to guarantee colorful images.
This Fantastic HIKVision iDS-7204HUHI-K1 Ai Recorder can record up to an incredible 8 Mega-Pixel images. It has a built-in Webserver, so you can view our cameras where ever you are, on your smartphone or laptop. This recorder features free P2P and remote view app, no need for complicated remote access setup or a static IP address, just follow the simple instructions to view your cameras anywhere in the World.
THIS IS WHAT IS LOOKS LIKE ON THE FREE MOBILE APP: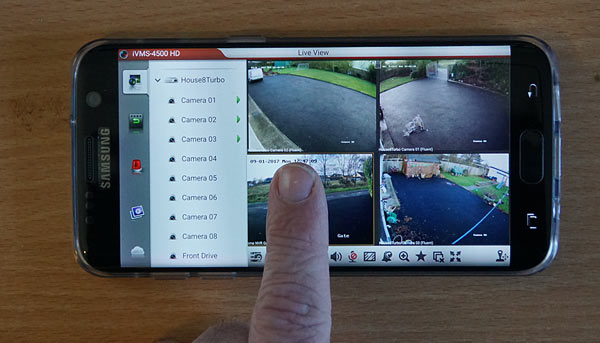 Tap to View Single Camera Screen: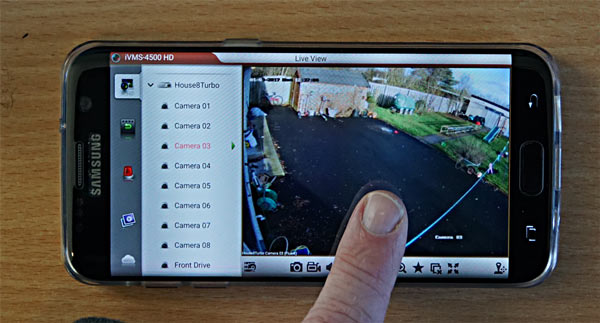 Maximise for Full Screen: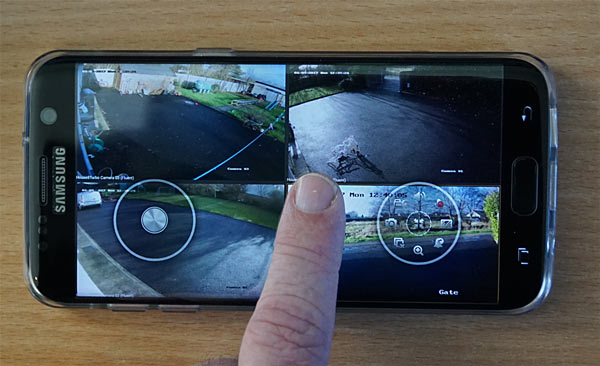 Tap Again For Single Camera: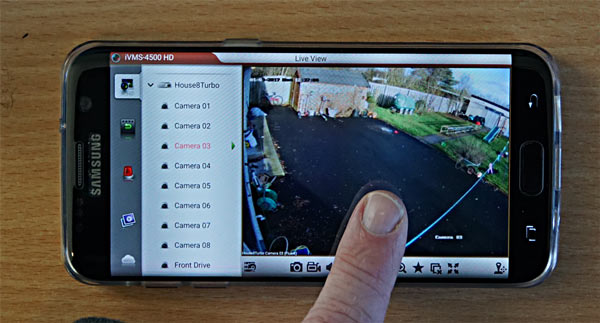 Single Camera Full Screen: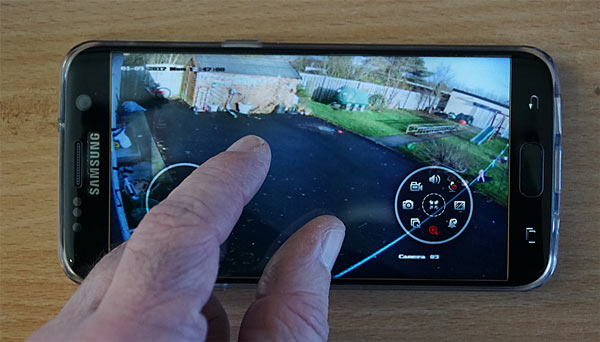 Zoom In With Fingers: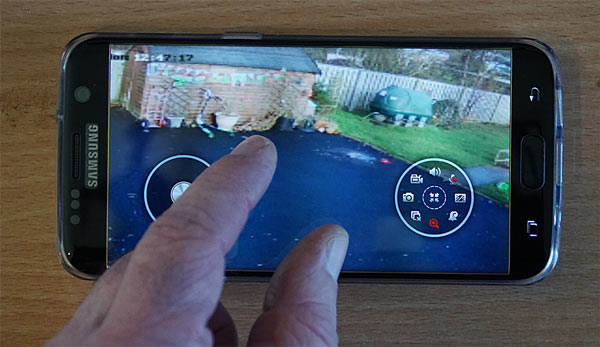 And Again: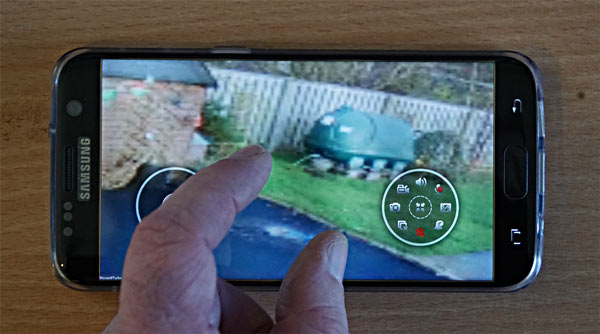 Now comes with the latest DS-2CE78H8T-IT3F Ultra-low light Turbo dome cameras with an incedible 60 metre Night-vision, that's over 180 feet!
This is what it looks like in total darkness at night, click on image for larger view: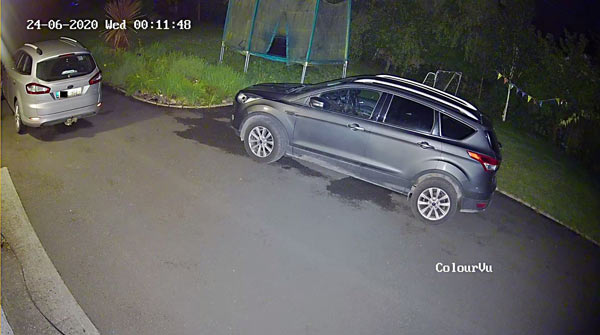 Please note that these cameras have a soft white light that comes on every night and not everybody likes that, but these lights can also be good for security! If you have any queries, please don't hessitate to contact us!
More Information

| | |
| --- | --- |
| Manufacturer | HIKVision |