CCTV Installations Ireland
Now Available: CCTV Installation in Dublin and most parts of Ireland
CCTV Ireland have been the cheapest online providers of HIKVision CCTV equipment in Ireland and we are excited to say that we now also install HIKVision CCTV solutions in businesses and homes all across Ireland.
We have been selling the lowest priced quality security systems for the past fifteen years and our reputation speaks for itself. Many of our customers are repeat and trade customers. You can rely on our extensive technical knowledge to design a system to suit your exact needs, no matter how complicated, even where other companies have just walked away.
Many of our customers have asked us to install CCTV systems for them, but traditionally we have just sold the equipment online, but now we work with the best PSA-registered and insured CCTV installers from around the country to supply the best equipment and installation at the best prices.
Our CCTV specialists can design, specify and install the most cost-effective system to suit your needs. It may just be a small two camera HD security system in a house, or hundreds of cameras and multiple recorders in large semi-state organisations and large multi-national facilities.
As one of the largest HIKVision partners in Ireland, we have direct links to HIKVision technical Pre-sales in Ireland and the UK, the HIKVision technical support team in the UK and individual engineers in the UK & China. HIKVision have worked with our engineers to specially modify hardware and software to suit our larger customers' needs.
So, do we know what we are doing? These are some of our customers that think we do:
We have supplied/installed HIKVision equipment to:
Dublin LUAS
Clayton Hotels
RTE
An Garda Síochána
Dooley's Hotels
Hilton Hotels
Teagasc
ESB Environmental
Eddie Rockets
Costcutters
Daybreak
AAA Mobile Windscreens
Alstom
Transdev
Schools and colleges all over Ireland
Supermancs
And to hundreds more companies as well. We work with our partners to provide solutions for toll roads, car parks, car dealerships, airport roadways, public roads, hotels, apartment complexes, bus companies, stadiums, retirement homes, sports grounds, some of the largest food manufacturing companies in Ireland, leisure complexes, the list just goes on.
CCTV Ireland were the very first to supply High Definition CCTV Solutions to rolling stock in Europe.
We were also the very first in Europe to supply HIKVision Blazer pro 256 Channel recorders.
Our installers and engineers are always top of the technology tree.
So if you're looking for a CCTV Installer in Dublin, Kildare, Wicklow or just about any part of Ireland call us now on 045 885 694 for a very competitive quote.
Some or our CCTV Installations in Ireland:
CCTV for Petrol Stations:
Retail Store CCTV:
CCTV in Industrial Estates: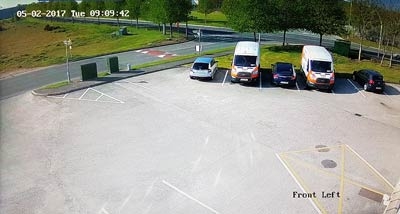 PTZ Cameras in Industrial Estates:
Nursing Home CCTV:
CCTV in Convienience Stores:
CCTV in Supermarkets:
Warehouse CCTV:
Apartment Complex CCTV:
Rail Depot CCTV:
Toll Road CCTV:
Licence Plate Recognition Cameras (ANPR Cameras):
Leisure Centre Gym CCTV:
CCTV Video blurring and facial blurring to comply with GDPR.
We provide a video blurring service for insurance companies, Multi-nationals, semi-state bodies, schools, etc. Facial blurring of CCTV footage can be expensive because it is very time consuming. We use specialised Facial blurring software that makes it slightly easier and quicker, but it is still very labour intensive.
If you need your CCTV footage blurred for GDPR requests, please send an email to: compliance@cctvireland.ie or ring us on 045 885 694.