Four Camera 5MP IP CCTV Kit from Cognitio with Audio
SKU
COG-4TUR-5MP-4CHN-KIT
This Brilliant Cognitio IP Network Kit comes with Four 5MP IP Cameras, and a Fantastic 5MP 4 Channel Recorder for very sharp and clear images.
These Cameras can see up to 30m in the dark and produce very sharp pure digital images.
This Kit Includes:
4x COG-5MP-IPC-TUR-F Camera
1x 

COG-NVR-4K-4-1TB Recorder

4x 20m Cable
1x Free Delivery

IP Cameras are always the easist to install and set up - the CAT5 cable plugs into the camera lead at one end and plugs straight into the recorder at the other end - no other cables are needed for the cameras, very simple!

Camera Overview:

With upgraded H.265 encoding technology, Lite series camera has efficient video encoding capacity, which saves bandwidth and storage space. This camera adopts the latest starlight technology and displays better colourful image in the environment of low illumination. It supports SD card storage, waterproof function, dust-proof function, complying to the standards of IP67. Microphones built in.

 

Functions:

Smart ( H.265+ & H.264+ )Adopting advanced algorithm of auto stream control according to the environment, smart encoding technology realises the higher efficiency than (H.265 & H.264 ), providing high-quality video, and reducing the cost of storage and transmission.

 

 Wide dynamic range (WDR)

This camera adopts advanced Wide Dynamic Range (WDR) technology. You can get clear details in the environment of strong brightness contrast. In high brightness and back- light environment, bright region and dark region with strong light source, you can also get clear images.

 

 Starlight:

Starlight technology mainly applies to the environment of low illumination, and it can provide clear colorful video. Even in the environment of min. illumination, the technology can guarantee the good image effect.

 

Intelligent Video Analysis (IVS)

With advanced video algorithm, this camera supports intelligent detection, such as tripwire and intrusion and so on.

 

Protection (IP67, wide voltage)

 

IP67: The camera passes a series of strict test on dust and soak. It has dust-proof function, and the enclosure works normal after soaking in 1m deep water for 30 minutes. Wide voltage: The camera allows ±30% input voltage tolerance (wide voltage range), and it is widely applied to outdoor environment with unstable voltage.

 

Poe Recorder:

Cognitio introduces the COG-NVR-4K-4-1TB 4K 1U Lite 4 Channel NVR. H.265 decoding technology, helps to save up to 50% HDD and storage space at the same level of video quality. Also, due to its easy-to-install design, this NVR is ideal for a wide range of applications such as home security, retail stores, warehouses, schools and financial institutions.

Channels         4

HDD Size        1TB

Colour Black

Video Input      4CH

Record Mode  Manual, Schedule, MD, Stop

Audio Input      1CH

Audio Output   1CH

Network Interface       1 RJ-45 Port (10/100Mbps)

USB    2 x 2.0

Power  Single, DC48V/1.25A

Dimension       260 x 224.9 x 47.6mm
Plug the first cable into the camera and recorder:
Then plug the second and other cameras in: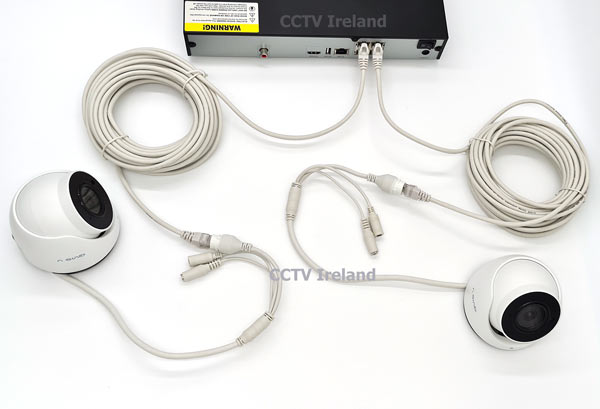 Then Plug in the HDMI cable to your TV, the network cable to your internet to view on your phone, (not essential), and the power supply:
You can ignore the other two connectors on the camera, the camera gets its power from the recorder through the same cable, it really is that simple!

View your cameras on mobile, tablet or PC with the DMSS app. Free download, no monthly charges:

More Information

| | |
| --- | --- |
| Manufacturer | QVIS |